Selling books and articles to publishers feels good, but the money received seldom reflects the value of the many hours it takes to research, write and revise each piece. Perfectionists probably shouldn't be writers. Then again, sloppy writing seldom sells.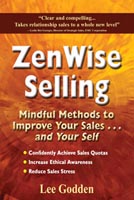 My 2004 book, ZenWise Selling: Mindful Methods to Improve Your Sales...and Your Self, teaches business professionals and leaders how to sell passionately, succeed financially and grow personally. Doing business with a Zen mind builds long-term customer relationships based on credibility, trust and ethics. Sales stress is also reduced. Click the cover to read excerpts and reviews. -->
For several years ZenWise Selling was on the shelves at major bookstores throughout North America. It was a Finalist in ForeWord's Book of the Year Awards. ZenWise Selling is still available through Amazon, where it once broke into the top 200. Foreign translation and distribution rights were sold to Korean, Indonesian, Russian, Indian and other publishers. In the far right column are two of those foreign covers, Russian and Indonesian.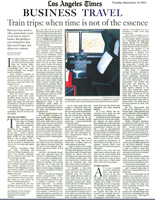 Here's a story I sold to The Los Angeles Times, titled "Train Trips: When Time is Not of the Essence." Click image to read the article in PDF format.-->
-->
-->
-->
-->
-->
-->
-->
Below are three of the most popular cover stories and feature articles I wrote for and sold to Referee Magazine. 1) a cover story about NFL Superbowl referee Bon Botchan; 2) a story about World Cup referee Brian Hall; 3) a story about college basketball referee (and former pro baseball player) Moose Stubing. Click on any cover to read that story in PDF format.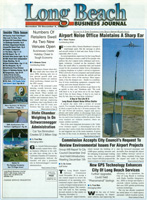 Here's one of dozens of articles and columns I regularly wrote for the Long Beach Business Journal. Click the image to read it in PDF format. -->
-->
-->
-->
-->
-->
-->
-->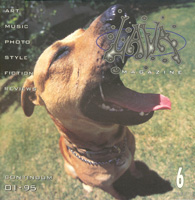 Non-fiction is far easier to sell and publish than fiction, but fiction (including science fiction, short stories and poetry) is more fun to write! In late 1994 I was surprised to receive offers from two competing publications for my bittersweet, 4000-word short story called "Seven Stories Below." It ended up in the January 1995 issue of Lava Magazine. Click the image to read it. -->
-->
-->
-->
-->
-->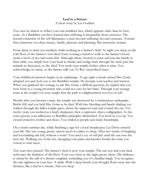 With the exception of "Seven Stories Below" and a few more, only a small fraction of the fiction I've written has been published. Here's a (very) short story called "Leaf in a Stream" that's never been published. Click the image to read it. -->
-->
-->
-->
-->
-->
-->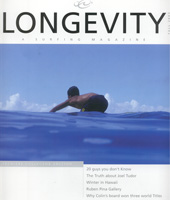 I was hired by the publisher of the longboard surfing magazine Longevity as a consulting editor to help launch their first issue. Although I'm not a surfer I enjoyed the eye-opening interviews with professionals including Josh Mohr, Joel Tudor and Colin McPhillips.
-->
-->
-->
-->