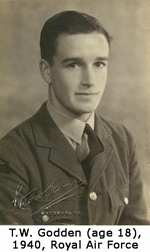 Lee's Father: Thomas William "Tim" Godden
March 6, 1922 - January 5, 1995
Dad was one of seven siblings from a poor carpenter's family in Kent (southern England). As a boy, Dad's trousers were made by his mother. He earned high marks in school, and was the first of his family to enter and complete all classes at the post-elementary Sir Andrew Judd School in Tonbridge, Kent, ages 11-16. Dad excelled in many sports from youth through adulthood: cricket, table tennis, javelin, discus, rugby, darts and golf...something he learned at age 57. After his first heart attack at age 62, however, he gave up golf. (Dad and I played a round of golf together during one of my visits...even though he was 68 at the time.)
At age 16 he lied about his age and entered the Royal Air Force in 1938. He stayed in the RAF for 13 years, working as a Senior Aircraft Technician on British Spitfire fighter planes. Dad left the service to join aircraft manufacturer De Havilland in 1951 and stayed for 12 years (until age 41) as a Provisioning Supervisor. He then joined Magirus Trucks in 1963 and stayed until his retirement at age 58 in 1980. He was Manager of Parts Provisioning, and managed 65

employees.
He married Catherine (nee Billington) in 1943, then left for South Africa to help the Allies win World War II. First son Terry was born in 1944, and I followed 14 year later in 1958. After a bitter divorce in 1967 Dad discovered his ex-wife had taken his 9-year old son to America, against English court orders. He didn't hear from me again again until 1988, when I (age 30, with a last name of Steinbach, that of my first step-father) found his address. I wrote a 1-page letter to him--essentially "Are you my Dad?"--and I received a 14-page heartfelt letter in reply. I immediately flew to England to see him.
Over the next seven years, until Dad's death from a heart attack in 1995, I flew to England several times, reestablishing ties with him, my brother Terry and Terry's children Steven and Claire Godden. In 1989 I legally changed my name back to Godden. Dad visited us in America once, for a fortnight (two week) holiday in 1990. In loving remembrance of Terry's and my father, an inscribed brick now lies in Hilltop Park, at the top of Signal Hill, California, overlooking the Pacific Ocean. -->
Lee's Father: Thomas William "Tim" Godden
Born: March 6, 1922 in Marden, Kent, England
Died: January 5th 1995 in Crewe, Cheshire, England (remains cremated)
Mother: Lillian Alice Godden (nee Ditton)(Lee's paternal grandmother)

Born: January 2, 1899 in Woodchurch, Kent, England
Died: October 3, 1943 in Rye at age 44 (pregnancy complications)
Note: Had pre-existing heart ailment. At time of death was four months pregnant with lifeless twins (possible ectopic pregnancy). Dr. Button at Rye Hospital incorrectly diagnosed fetuses as cysts and operated accordingly. Heart stopped during operation.
Burial location: unmarked grave at church in East Guldeford, Rye, Sussex, England
Father: Alfred Settatree Ditton
Mother (from Nigel Godden): Annie Marie Spain
Mother (from Lee's chat's with Mona): Jane? Jennifer? "Jenny" Ditton

Born: __ / __ / __ in _____________
First husband: Mr. _______ Poune

Born: __ / __ / __ in __________

Notes: Had child Lillian Alice Ditton (above) out of wedlock. When pregnant with child Jenny, married Mr. Poune. Later children included Jack, Robert, and Nancy Poune.

Brother: Alf Ditton
Sister?

Father: Thomas William Godden III

Born: December 15, 1897 in Marden, Kent, England
Died: May 31, 1954 in Faversham, at age 56 (Coronary Thrombosis)
Buried at Faversham Church, England
Occupation: Farm employee
Father: Thomas William Godden II (white beard)

Born: 1873 (Sally has Oct. 1872) in Marden, Kent
Died: March 1921 (when widow remarried as widow)
Occupation: farmer / pig butcher
Purchased "Poulter's Hall" for 500 pounds
Married in 1892 in West Malling, Kent to Alice Jane Brooks (see below)
Had 5 children
Daughter: Alice Sophia Godden
Daughter: Hetty Godden

Born: 1895
Married Walter Clarke in 1918
Grace: "Hetty liked to fight with relatives, especially Lil." (Lee's paternal grandmother)
Daughter: Grace Lowe

(Lee met Grace, Valerie, Ron, Heidi and Allan on Dec. 7, 2014 in Orange)

Grace was born: 1919, at Poulter's Hall (see above), Kent
Married Thomas Lowe

RAF fighter pilot (earned Silver Wings)
Died 1998, cancer
Thomas moved to Michigan as a youth, then moved back to UK during US recession.
Wife Grace liked warmer weather, so the couple moved to Windsor, Canada (near Detroit, Michigan) in 1947
In 1951 family moved to Whittier, California.
Settled later in Orange, California

Daughter: Heidi Jayne Nelson (see below, daughter of Grace's brother "Gus" Clark)
Daughter: Valerie Michal

Born in Windsor, Canada, Oct 21, 1949
Married Ron Michal

Born in Compton, California, Oct 26, 1953

Reside in Wrightwood, Calif., but currently live with Grace in Orange, Calif.

Son: Allan Robert Lowe

Born: May 30, 1944 in Dagenham, England
Son: Thomas Lowe (videographer)
Son: David Lowe
Served in U.S. Army in Vietnam

received Bronze Star medal

Retired from AT&T (formerly Bell Telephone)
Volunteered on USS Iowa battleship
Died April 16, 2015 in Long Beach, CA, aged 70

Son: David Lowe

Born in England 1941
Died Feb 19, 2011 (year?), age 69

Son: Lancelot Walter "Gus" Clark

Born: 1921
Nickname "Gus" came from head-nodding horse
Married: Thelma Woodland

died in 1961 during daughter Heidi's childbirth

Served in Royal Navy

Connection with HMS Queen Mary?
something related to "Kirasela?"

Son: David Allan Clark

Age 60 as of 2014
Lives in England

Daughter: Penelope "Penney" Bowdle

(eldest of Gus' children)
(Facebook Friend with Lee)
came to US in 1970 (married US GI)
lives in Washington State

Daughter: Christine Ann Mclaughlin

Born Feb. 13, 1952
Lives in Selby, Yorkshire, England
(also does family history research)
(Facebook Friend with Lee)

Daughter: Heidi Jayne Nelson

Age 53 in 2014
Born at Hornschurch Hospital, Romford, Essex
Mother Thelma (above) died after childbirth
Father ("Gus") asked his sister Grace to raise Heidi
At age 5 weeks emigrated to US to be raised by Grace
Works at Walmart in Buena Park

PHOTO ---> Top row, left to right: Alice Jane (Brooks) Godden, Thomas William Godden III, Thomas William Godden II, Edward Godden; Bottom row, left to right: Alice Sophia Godden, Thomas William Godden I, Hetty Godden, Baby is GRACE!...dog-Teddy Bears
Son: Edward Godden

Born Oct 9 1901 in Marden, Kent
Enlisted in English Army, Aug 21 1914 for World War I duty

Served 15 years in Army, discharged Aug 20, 1929

Moved to Canada, met wife Stella and became a blacksmith
Enlisted in WWII September 1939
Diagnosed with stomach cancer, giving months to live
moved to BC, Canada and lived for many more years, working as a carpenter.
Married July 31 1930 to Stella Marie Howlett in Regina, Saskatchawan, Canada

Born March 6 1908 in Preston, Co. Waterloo, Ontario, Canada
Died Aug 6 1990 in Princeton, BC, Canada
Father: Benjamin William Howlett

born 1874 in Norfolk, England
Married Elizabeth Murphy Sep 19 1906 in Waterloo, Ontario, Canada
died Nov 6 1915 in Preston Co., Waterloo, Ontario, Canada

Mother: Elizabeth Murphy

born Jan 5 1873 in St. Bridget's, Blackwater, ireland
died 1946? Ontario or Alberta, Canada
daughter: Pearl Irene, b1906, died 1907
daughter Stella (see above)
daughter Lovina Phillemenia, b 1909, d1973

married Art Stanley, no children

daughter Elizabeth Estha, b 1911 d1961

married Frank ____
children Allan, Geraldine and Henry

second marriage (widow) to Frank Bernard

Son: Edward James Godden (Jr.)

Born 1931 in Marden, Maidstone, Kent, England
Note from Heidi Clark: An Edward Godden, was parish minister? (or was it his father Edward?)
Died August 1, 2013

Daughter: Margaret "Peggy" Godden

born Feb 28 1933 in Regina, Sask, Canada
Married Thomas Leonard Coyne, Feb 29 1952 in Penticton, BC

Born Jan 15 1927 in Princeton, BC
Died July 6 1994 in Princeton, BC

Edward Died Dec 30 1972 in Princeton, BC, Canada

Daughter: Sarah Louise Godden b1904
Father: Thomas William Godden I

Born 1851 (Sally has 1850) in Marden, Kent, England
Died March 1925, Maidstone, Kent.
poultry farmer; census listed as 'shoe maker' at age 30
Married: Sophia Linkstead in 1872 (8 years older than Thomas)

Born: 1843 in Yalding, Kent
Died before 1891 (Sally has 1885), leaving Thomas a widower at age 40

one son, Thomas William Godden
Father: Thomas William Lewis Godden

Born 1829 in Marden, Kent
Died: Oct 14 1856 in Marden, Kent (age 27!)
Father: Joel Godden

Born: March 18 1804 in Marden, Kent
Died: 1878 in Marden, Kent
Father: John Godden

Born: 1754 in Marden, Kent
Died: Jan 1836 in Marden, Kent (age 82)

Mother: Mildred Hunt

Born: 1769
Died: March 1823 in Marden, Kent (age 54)

Brother: Thomas Godden, b1802, died as infant
Sister: Ann Godden, b June 1807 (no more info)
Sister: Mary Godden, bMay 1813, died May 1819 (age 6)

Mother: Sarah Waterman

Born: April 20 1806 in Marden, Kent
Died: Dec 23 1865 in Marden, Kent (age 59)
father: Edward Waterman
mother: Mary Bray Austin

Sister: Sarah Godden, b1826, died March 1832 (age 6)
Sister: Mary Mildred Godden, bApr 1828, died 11 weeks later in June 1828
John Edward Godden, b Jan 1832 (no more info)
Edward Godden, b Apr 1834, died Feb 9 1911

Mother: Susannah Maria Neale

Born: Dec. 1828 in Goudhurst, Kent
Died: 1887
Note: during one census Susannah crossed out her first name and replaced it with 'Sarah.'

Sister: Susannah Godden, b1853
Sister: Sarah Godden, b1855, died at age 6
Brother: William Thomas Godden

Born July 14 1859 in Linton, Maidstone, Kent
(note: Nigel Godden may have 1869 as birth year)
Died July 16 1942
(note: Nigel Godden may have June as death month)
Married in 1887 to Esther Godden (William's mother Susannah died 1 month earlier)

Esther Born July 31 1864 in Sussex
Died Dec 9 1947

Son: Charles William Oliver Godden

Born 1897
Died 1938 (of stomach cancer)
Married to Elizabeth Marshall
Son: Stanley Charles Godden

Daughter: Margarita Murray

Born Dec 13, 1955
Married (1975) to James Murray

moved from Scotland at 17

Son: Paul Murray
Son: David Murray
Daughter: Amanda Murray
Note: Margarita emailed Lee November 2012. She lives 25 miles west of London.

Son: Andy Godden, born July 4, 1954
Son: Pete Godden, born Jan 30, 1960

Son: Sidney Godden
Daughter: Frances

Daughter: Esther Godden, b 1889
Son: William Oliver Godden

Born June 7 1889 in Sydenham, Kent
Died: Dec 17 1956 in Cranbrook, Kent
Daughter: Olive Godden
Son: William Standford Godden

Born Jan 3 1926 in Cranbrook, Kent
Died June 17 2006 in Milford, Surrey, England
Partner (wife?): Nita Mary McCheyne

born Sep 27, 1926 in Bristol
father: Charles Edward McCheyne
mother: Maud Ethel Averill

worked as police constable and detective
acted in film "Born Free"
Son: Nigel Richard Standford Godden

born: Nov 3 1956 in Kuala Lumpur, Malaya.
note: Lee and Nigel Godden, lives in Netherlands (Middenlaan 28, 3843 BC Harderwijk, Netherlands, tel 00-31-341-495396, goddennigel@hotmail.com as of March 2007) believes Thomas Godden may have died in 1859 instead of 1856, which would make Nigel a "true Godden," he wrote to me. Otherwise not.

Daughter: Nicola Jane Averill Godden

born March 30 1959 in Moenchengladbach, Germany
married Michael Sinclair Rutherford on Dec 28 1997

daughter: Natalie Ann Rosemary Godden

Son: Jack Oliver Godden

Born Aug 8 1927 in Cranbrook, Kent
Died Feb. 5 2009 (stroke) in New Zealand
Married Edna Lilian Smith in 1955

Born: Sep 17 1931
Died: April 8 2009 in New Zealand

Jack was a police officer in Kent
Daughter: Elizabeth Ann "Lyz" Smith

born Aug 13 1964 in Maidstone, Kent
married Adrian Paul Smith on Dec 22 1990 in Norfolk, UK
Note: Lyz and Lee are in email contact, 2007 to present. [Lyz's email address hidden.] In 2007 told me her father Jack put together a doc for her cousin Nigel Godden (above).

Daughter: Teresa Christine Godden

born Dec 29 1961 in Maidstone, Kent
occupation: bank manager

Joseph Godden

born Sep 22 1895
Died 1982
Married Winnifred Blakely

Born Jan 22 1899
Died Jan 1 1968

Son: Francis Leslie Godden, b1920, d 1942
Son: Alan David Godden (no info)
Daughter: Jean Patricia Godden, b1929, d1982
Daughter: Katherine (Betty) Godden

Born 1922
Married Henryk Audrzej Malewski, b1921
Son: Richard Majewski

Born 1958
Richard emailed me Jan 2007, saying we're related. He's a Man City fan. Liked my recount of finding my father. Email: richard@majewski.com

William also had 10 other children!

Sister: Emma Godden, b1861

--> Photo shows Emma Godden ("Aunt Emma" to Grace Lowe), holding baby (with unknown others) in hops field in Kent

Sister: Jeminia Godden (no info)

Mother: ___________________? (nee ________)
Born: __ / __ / __ in _________
Died: __ / __ / __ in _________

Mother: Alice Jane Godden, nee Brooks

--> See photo of Alice Jane Godden

Born: 1873 in Kent
As widow in 1925 married Fredrick White

born: 1872
father: William White

Died: 1946?
Father: William Brooks

born 1848 in East Farleigh, Kent, England
Married Esther Apr 17 1871 in Ashford, Kent
Son: Thomas Brooks, born 1972
Daughter: Alice Jane --> same photo
Son: William Brooks, born 1875
Daughter: Hetty, born 1878
Daughter: Emma, born 1879
Son: Harry ?
Daughter: Nellie ?
Son: Frank ?
Mother: Sarah Ann Brooks

Born Dec 17 1826 in Yalding, Kent
Died: before 1871
William Brooks born 1848 was child before marriage
Married later in 1848 to Henry Reader
Sarah and Henry has 7 children
Mother: Caroline Brooks

Born: 1809 in Yalding, Kent
One child before marriage: Sarah Ann, 1826
Married Thomas Spice 1827
had 8 more children with Thomas Spice
Died: 1840 in Maidstone
Father: Edward Brooks

Born: 1774 in Yalding, Kent
Married Susanna Peckham c1797

Father: John Peckham
Mother: Sarah (born Pettit)

Mother: Susanna Brooks
Siblings: Edward, Charlton, William and John

Mother: Esther Freeman

Born: 1851 in Smarden, Kent, England
Father: Thomas Freeman
Mother: Emma Brazier

Had 7 siblings: Thomas, William, Hetty, Emma, Harry, Nellie, Frank

Sister: Alice Sophia Godden --> photo

Born 1893
Died Jan 21 1970 of a coronary occlusion, age 75

old rumor was that Alice died in an Australian bush fire

First husband: John Henry Smith

Born: Apr 10 1895 in Camberwell
Father: John Charles Smith
Mother: Susan Matthews Reynolds
Joined Australian Army July 18 1940

Discharched as sergeant Sep 29 1945

Died: Dec 6 1981 in nursing home in Victoria Park, Western Australia

Alice and John migrated to Western Australia in 1925, as part of a 'scheme' or group settlement by the local government. Settlers from England were loaned some land (usually thick forest) for farming use. The scheme was mostly a failure.
Son: Jack Edward Smith

Born: c1919 in England
Immigrated to Australia with his mother Alice and father John in 1925 at the age of 6
Joined Australian military in 1940s, and was captured and held as prisoner of war on the Burma Railway by the Japanese. Survived.
After the war, married _____
Son: Kim Edward Phillips

born: [date hidden] 1953 in Bridgetown, WA, Australia
Born as Kim Smith, changed to Phillips in 1958
married: Karen Lesley Brooks in 1990?

born: [date hidden] 1957 in Oxford, England
father: Albert Leslie Frank Brooks
Mother: Yvonne Marie Winnifred Wall
LEE and KAREN are in email contact since 2007

Karen and Kim live an hour north of Perth, in Western Australia.

[Karen's email address hidden]

Son: Scott Craig Phillips, born [date hidden] 1992
Kim never knew his grandmother Alice
Kim found out when he was 50 years old that Jack Edward Smith was his father. He'd thought his mother's 2nd husband, Francis, was his real dad. Francis was his step-dad.

Jack died: July 30, 1955

Jack was killed by a falling tree in the heavily forested Greenbrushes area south of Western Australia.

Son: Albert Roy Smith

Born: 1932
died 2004 of Parkinsons Disease
Daughter: Leonie O'Mara, nee Smith

Born November __, 1956
Lee emailed with Leonie several times in 2007

[Leonie's email address hidden]

Lives in Bunbury, Western Australia
age stated in 2007 as "fifty-ish"

Daughter: Vivine Alice Smith

born 1921, died age 9 1930

Daughter: Muriel Smith, b1930
Son: Stanley Gerald (Bill) Smith, b1934
Alice Sophia Godden's 2nd husband: Francis Edward Lionel Phelps

married fellow settler Francis on July 18, 1950
Francis born 1895
died: July 26 1967

Brother: Edward (Ted) Godden

born Dec 22 1901 in Marden, Kent
later immigrated to Canada when Mona was young

Sister: Sarah Louise Godden

born May 8 1904 in Marden, Kent

Sister: Hettie Godden in England (see above)

born Nov 10 1895 in Marden,Kent
Married Walter Clark in May 1918
Son: Lancelot Walter "Gus" Clark (see above)

1st Marriage: Catherine Yatrofsky, nee Billington, formerly Godden, formerly Steinbach

married Sep 21 1943 at St. Phillips, Witton, West Midlands, England

2nd Marriage: Florence Godden (nee Trundley)

married August 16, 1969 Moore Street Chapel, Rochdale, Lancashire
Born: July 2 1923 In _______
Died: @June 1997 in Ripon?
Occupation: __________________

Dad's Sister: Mona Harlow (nee Ditton - half-sister)

Born: February 4, 1918 in Rye
Died: 2003??
Address was: 33 West Place, Brookland, Romney Marsh, Kent TR299RG
Occupation: Farm worker, fruit/hop picker, tractor driver, "jack of all trades"
Notes: quit smoking in November 1973
Father: unknown
Husband: Stan Harlow

Married: August 14, 1934 in Maidstone Registrar's Office
Born: January 23, 1916
Died: February 27, 1989 in Rye Hospital

Son: Raymond Stanley Harlow

190 London Road, Deal, Kent, CT140PW?
Born: March 14, 1935
1st Marriage: Joy ________? in 1958, length: 3 years
2nd Marriage: Dilys Harlow (nee Laugher)

Married: December 30, 1964
Father: Bank manager, died in 1993 at age 94

Son: Simon Harlow

Born: June 21, 1966
Occupation: helicopter pilot, Royal Navy, Lt.

Son: James Harlow

Born: July 31, 1967
Occupation: pilot, British Airways

Note: June 2011: Ray called Sue Clark (see below). Ray was best man at Sue's father John's wedding to Janette Hunt. (Ray and John were same age.)

Brother: Robert (Bob) Godden

Born: July 3 1924 in Marden (or Maidstone?) Kent
Died: July 9, 2001 (throat cancer)
Lived in Mary Tarry? near Tavestoft, near Devon?
Wife: Frances Eileen Elizabeth Garbally

Married Feb 26 1944 at St. John's Church, Bromley, London
Born: c1925?
Died: 1996 (breast cancer)

Daughter: Janice Thorpe (nee Godden)

Lives in Maidstone, Kent
Born: March 1947 in Battle, Sussex
1st husband: Michael Legge (now divorced)

Married June 4, 1966

at St. Michael's Church, Marden, Kent.
See "All Godden siblings" photo above.

2nd husband: Jim Thorpe
Son: David Legge

Born: February 23, 1969
Son: Sid, b2008?
Lives in Gloucestershire

Daughter: Deborah Legge

Born: September 22, 1971
Married: John ____
Daughter: Dana, b2004?
Lives in Hatfield

Daughter: Donna Legge

Born: June 15, 1976
Married: Dave ____
Daughter: Ellie, b2004?
Daughter: Paige, b2009?
Lives in Brighton

Daughter: Della Ward (nee Legge)

Born: June 30, 1978
Divorced
Son: Chris, b1999?
Son: Kyle, b2001?
Daughter: Georgia, b2003
Son: Tyrus, b2005?
Lives in Maidstone, Kent

Note: Janice (janice.thorpe261@btinternet.com) and Lee emailed each other in 2011. Janice is in touch with Sue Clark. Janice said my father Tim used to visit (along with Florence) when Janice lived in Staplehurst, when Janice's children were young (late 1970s?). Janice said I visited too, when she lived in Marden. (Was that during one of my visits with Dad?)

Son: Ian Godden

Born: __ / __ / __ (oldest child)
Wife: ___________ (divorced 2x)
Had 10 children?
Lives now in France since 2001 (according to Janice)

Daughter: Daphne "Cherry" Godden

Born: Feb 15 __? in __________
Son: _____ _____

Born: __ / __ / __ in __________
Died: __ / __ / 1992? (suicide?)

Notes: Lives with partner and his four children in Portugal.

Daughter: Joy Godden

Address: Same house as father Robert and mother Eileen (above)
Born: __ / __ / __
1st Husband: Nicky Hunt (now divorced)

Dates: August 10, 1974 to __ / __ / __

Current mate: Mr. ______ ______
Daughter: Kirsky? __________ (father = Hunt)
Daughter: Kerri __________ (father = Hunt)
Son: Robert ________ (father = Hunt)

Born: __ / __ / __? (age 7 in 1990)

Adopted Son: ____ _____ (from current mate's prior marriage)
Son: _____ _______ (father = current mate)

Born: __ / __ / __ in _________

Brother: Kenneth (Ken) Godden

Born: __ / __ / 1930 in Marden
Died: February 2, 1993 in ___? (cause of death: car accident?)
Lived in Kennington (near Ashford)
1st mate: Chan Kit? (Hong Kong)

Born: __ / __ / __ in Shanghai?
Dates: April 12, 1954 to __ / __ / __

Ken's step-son: John Godden?
2nd marriage?: Shirley Godden (nee ______)

Born: __ / __ / __ in _____________

Son: Kenneth (Kenny) Godden II

Born: May 10, 1957 in ______________

Daughter: Sally Godden

Born: November 3, 1962 in _______________
Died: December __, 1992 in _________ (breast/liver cancer)

Daughter: Shirley Godden

Born: September 9, 1955 in ___________

Daughter: Jacqueline Godden

Born: June 19, 1964 in _____________

Brother: John David Clark Godden

Born: December 27, 1935 in Marden
Lives in Maidstone, Kent
Phone: 0233-622584?
1st Wife: Jannette Norah Hunt

Dates: January 17, 1958 (St. Phillip's Church, Maidstone) to __ /__ /__
Born: July 18 1936 in Maidstone, Kent

2nd Wife: May Swandale
Son: Kim John Godden

Born: April 26, 1961 in ___________

Daughter: Susan Jane Clark (nee Godden)

Lives in Stevenage, U.K.
Lee met Sue and Richard during October 2011 visit with brother Terry in Stevenage
2008 email: sjck_@hotmail.com
Born: May 6, 1965 in Maidstone, Kent
Married Richard Anthony Clark: December 30, 1993 (or 1992?) in Chatham, Kent

Richard born Dec 29 1951?

Sister: Lillian Alice ("Mich") Prior (nee Godden)

Born: September 25, 1920? In Marden
Died 2007 from breast/liver cancer
Lived at 91 Manor Road, Lydd
Married Denis Prior on Nov 6 1943

marriage was 6 weeks after Mich's mother's death
Denis born: 1920 in Kent, England
Note: As of June 2011. Sue Clarke says Mona's son Ray is still in regular contact with Denis, with whom Sue writes.

Mich and Denis were known as "The Mayor and Mayoress of Lydd"
Son: Michael Prior

Born: November 21, 1944 in __________
Died: August 18, 1988 in Australia.

(Cut hand on tin, became infected, died two days later. Initially moved to Australia because he became disillusioned with father's farming lifestyle(?).)

Wife: Susan Prior (nee Day)
Son: Simon Prior
Son: _______
Born: __ / __ / __

Sister: Elizabeth "Betty" Hickmott (nee Godden)

Born: 1933?
Lives at: 4 White Limes, Cranbrook, Hawkhurst, Kent?

just 15 miles away from Janice Thorpe
Janice visited Aunt Bette in June 2011, and likely visits often.
Sue Clark visited Betty in 2008?

Phone: 0580-754186?
Lee visited (along with Aunt Mona) during 1990 visit
1st marriage: Tom Apps, in New Romney, Jan 14th 1948

Dates: January 14, 1948 to __ / __ / __
Born: Nov 2 1929 in ________________

2nd marriage: William (Bill) Hickmott

Dates: October 23, 1973 to present
At: Maidstone (New Romney) Registrar's Office
Born: __ / __ / __ in ______________

Son: Ken "Kenny" Apps

Lives in Staplehurst?
Wife: ______ ________
Children: 2
Born: __ / __ / __

Son: Robert Apps

Lee and Terry Godden and their families

Last photo of Mona and I in her backyard in Brookland, Kent.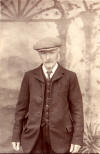 Paternal grandfather Thomas William Godden.

Paternal grandfather T.W. Godden during World War One.

Thomas William Godden and Alice Brooks Godden with their granddaughter Grace Clark, circa 1921.