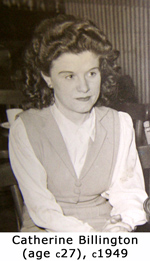 Lee's Mother: Catherine Watson Billington
May 14, 1922 - July 15, 2010
Mum was one of two siblings from a working-class family in Blackburn (northern England). Mum told me that, when she was young, she felt unloved by her mother, so she went to her dad for hugs and affection. She believed her parents preferred her younger brother Derick over her.
At age 21 she married Royal Air Force flight mechanic Thomas William ("Tim") Godden (my father) in 1943, shortly before he left for RAF duty in South Africa, where he helped the Allies win World War II. Their first son Terry was born in 1944, and I followed 14 year later in 1958.
After a bitter divorce battle in 1967, Mum -- believing she was doing the right thing -- violated English court orders and took me out of the country by plane, after securing American travel documents provided to her as a result of her hasty marriage to U.S. sailor Philip Herbert Steinbach, a previously unmarried man 14 years her junior. The two had met in London, and the three of us settled in a rented house in Arlington, Virginia, near Steinbach's place of work, the Pentagon. Not wanting anything to remind her of her first marriage, Mum legally had my last name changed from Godden to Steinbach.
Mum divorced Steinbach after five or so years years of marriage and countless physical fights. As a boy I witnessed most of these fights. Sadly, Mum was always the aggressor. (Later in life we learned Mum was likely manic-depressive.) She literally terrorized poor Steinbach, including throwing boiling water on him, and trying to stab him with a kitchen knife. The worst thing I witnessed was Mum tearing the toupee off Steinbach's head. She tore it to pieces with her hands while he cried, knowing he'd have to go to his Navy job the next morning as a bald man. (His co-workers had never seen him without hair.)
After her divorce Mum dated a number of US Navy men. She charmed them all. At one point she asked me which of the three men she was dating she should marry. I ranked them in this order: 1) the guy with two cute daughters around my age; 2) the guy with two older-than-me sons who drove fast cars; and 3) the never-been-married, loner, bachelor guy who lived in a cabin in the woods. Mum chose number 3, a Navy Chief named Albert Yatrofsky, who became my second American step-dad. I was fifteen.
After high school I joined the U.S. Navy, then launched my own career, all the while staying in touch with Mum and Albert. Her manic-depression disorder led to dementia, which escalated into a long (17 year) battle with Alzheimer's disease. During those years I spent more time visiting Albert at their home in San Diego. Alzheimer's is a cruel disease that not only prevents recognition of loved ones, but also cripples the body. Eventually Mum needed a feeding tube. Albert was a tireless caregiver to his ailing wife for years and years, tending to her every need. When she died July 15, 2010, Albert and I mourned her passing, but we knew Catherine's years of pain and suffering were over.
Here's a 3-minute video I made as a memorial to Mum, after her July 2012 passing:
(Just a quick note of thanks to cousin Glenda Eaves in Australia. Her help compiling the following information on our Billington ancestors and relatives has been invaluable!)

Lee's Mother: Catherine Watson Billington (later Yatrofsky)
Born: May 14, 1922 in Blackburn, Lancashire
Died: July 15, 2010 in San Diego, California

Buried at Riverside Cemetery, Riverside, California

Father: Harry (Harold?) Billington

(Lee's maternal grandfather)
Born: Oct 24 1898 in Blackburn
Died: June 8 1977
Worked at Blackburn cotton mill (wife Bella worked there too!)
1 of 9 children; 11 born but 2 died
Father: John Thomas Billington

Born Dec 22, 1862 in Radcliffe (Potter Street)
(Lee's maternal great-grandfather)
Died July 15, 1947 in Feniscowles (23 East St.) near Blackburn

Buried: New Row Cemetery in Darwen with his wife Catherine

Known as "The Papermaker," and written about in local newspaper at age 80 for lorry (truck) loading at the Star Paper Mill
Married Catherine Watson (see details below) on Dec. 24 1884 at St. Peter's Church, Newbold, Rochdale, England

Witnesses: Elizabeth C. Crocker (John's sis) & Wm. Watson (Cath's father)

Father: John Billington (Lee's maternal great-great-grandfather)

Born: Sep 10 1825
Baptized: Oct 23 1825 in St. Mary of the Assumption (a Catholic church!) in Burnley, Lancashire
Occupation: block printer
Married: 2nd July 1855, Manchester Cathedral
Wife: Margaret Jordan

born 1840
Witnesses: William Hope and Mary Mack both of 76 Ordsall Lane, Salford
arrested in 1877 (age 37) for drunk and riotous behavior. Lost all upper front teeth. Sentenced to 14 days hard labor and fined 20 shillings.


Poss. Father:? Thomas Billington (Lee's maternal g-g-g-grandfather)

Baptized 15th March, 1801 in Penwortham
1st marriage to Elizabeth "Betty" Shaw , born Stuart, Married circa 1820
Wife: Ellen Nee Taylor

Poss. Father?: Thomas Billington

Born c. 1776 Garstang
Married 1 poss. Betty Douglas in Lancaster (died in 1816)??
Married 2 Betty Stuart on Sep 1, 1818, St Helens, Garstang.
(Married under prev (m) name of SHAW
Poss. Father?: James Billington

Married Margaret nee Turner, 3rd August, 1761, Garstang.

Possible mother: Elizabeth Shaw, born Stuart

born: March 18, 1792 in Garstang


Mother: Catherine Billington (nee Watson)


Born August 6, 1862 in Robertson Sq., Bathgate, Scotland
Died May 24, 1938 in Feniscowles (23 East St.) near Blackburn

Father: William Watson

Born: Sep 22 1826 in Anderston, Glasgow, Scotland
occupation: iron turner
Married Agnes on July 6, 1846 at Barony Parish Church, Scotland
Father: William Watson

married Catherine Feb 20, 1824

Mother: Catherine McKeller?

Mother: Agnes Watson, nee McLaren
Brother: William Watson, b1858 in Edinburgh
Sister: Martha Watson, b1861 in Bathgate, Scotland
Sister: Margaret Watson, b1865 in Village of Whitburn
Sister: Jane Watson, b1868 in Glasgow


Brother: Walter Billington (Glenda Eaves's grandfather)

Born: 31st August, 1901, Blackburn, Lancs
Married Alice Campbell on Sep 1 1928 at St. Peters Church, Blackburn

Son: William Kenneth Billington (Glenda Eaves's father)

Born: 14th January 1930, Blackburn Lancs
Died: Oct 1, 2004 in Queensland, Australia
Married: 19th December, 1950 St Lukes Church in Blackburn

Daughter: Glenda Eaves, nee Billington

Born: 24th April, 1951
Glenda's family emigrated from England to Australia, 1968
Married 11th August, 1972 to Terence

Husband: Terence Derek Eaves (bass player)

Born: Tottenham:7th September, 1948


Daughter: Renee Terri Eaves

Born 29th April, 1976-Brisbane.Australia


Daughter: Jodie Angela Eaves
Note: Lee has been in email contact with Glenda Eaves since 2004. telglen@bigpond.com


Daughter: Judith Balcazar nee Billington

lives in London
Husband: Hernan Balcazar


Son: David Billington

Died: May 24, 1969 (age 68)

buried at New Row Cemetery, Heyes Lane, Blackburn

Brother: William Billington

Born: Dec. 14(?) 1885-Rochdale.
worked at same paper mill as his father John Thomas Billington
Married Frances Alice Wiggans in 1908 in Blackburn
Son: William Billington (first born)

born 1913 in Blackburn
Lived with his parents in Old Trafford in Manchester
worked at Metro Vickers, Manchester?
worked at chemist in a flour mill

Son: Walter Billington

born in Manchester, England in 1920
died in WW2 in Wellington bomber mine-laying mission, working as a wireless operator and rear gunner. Awarded Distinguished Flying Medal.
See email and web links from Ken Brooks, sent to Lee July 25, 2012, and commented on by Glenda Eaves.

Sister: Kate (Kitty) Clarke nee Billington

Born: Sept. 1/4 1887 in Rochdale
Died June 5th 1942
Married to Charles Clarke

Son: Jack Clarke

Note: Jack was "at sea" when mother Kitty died


Son: Frederick Clarke
Son: Francis (Frank?) Clarke
Daughter: Lucy Clarke

Son John (Jack) Billington

born 1893 in Rochdale
owned a fish & chip shop?
Married Eva Fenton Pearson
daughter: Irene Billington

married Ellis Slater in 1942?

Won Military Medal in the Great War

Sister: Lucy Almond nee Billington

Born 1891 in Rochdale?
Married Len Almond
No Children
Died mid-1970s


Sister: Isabella Billington

Born 1903
Married?
Had two sons?


Sister: Agnes Chippendale nee Billington

Born: 1896
Married Thomas Chippendale
Daughter: Doreen Chippendale

Daughter: Muriel Chippendale
Twin daughters: Jean and Joan Chippendale


Brother: Frank Billington

Born 1904
Died (c) 1983 in Blackburn
Married Mary Elizabeth Boothman
they lived in Blackpool for awhile, then moved to Blackburn

Sister: Alice b 1895, deceased (as child?)
Sister: Maggie b1890, died at age 1



Catherine's Mother: Isabella "Bell" Billington (nee Riley)

(Lee's maternal grandmother)
Born: Sep 26 1898 in Blackburn, England
Died 1974

Father: Thomas Riley (see photo --->)

Born Oct 16th 1872 in Blackburn
Died Nov 1919
Married: Ellen Jane _______? June 25th 1892
Father: Jonathan Riley

Born 1827 in Blackburn
occupation: weaver
Died: March 1883?
married Mary Ann Payne
(Lee's mum Catherine said she never knew her maternal grandfather)

Father: Henry Riley

Born 1800 in Blackburn
married Jane
married Alice
married Beth Hammond?

Siblings: Henry b1823, Elizabeth b1824, Jane Anne b1826, Mary Matilda b1830, Rachael b1833, Thomas b1838, Levi b1843

Mother: Mary Ann Payne

Born 1839 in Worcester
photo --->


Mother: Ellen (or Hellen?) Jane _____?)

Born Feb 1 1872 in Clayton LeMoors
Died Nov 3 (or 23rd?) 1913
Occupation: spinner
Note: Catherine never met her maternal grandmother


Sister: Louisa Riley

Born Oct 6th 1900 in Blackburn
Died ______ in __________?
Married Jack Kyle
Daughter: Louise
Son: Kyle


Sister: Bertha Riley

Born Aug 25th 1903 in Blackburn
Died 1994
Married Fred Lightbown Sep 19 1931 in Blackburn

Born Nov 29 1908
Died Oct 29 1959, muscular atrophy
Father: Richard Charles Lightbown

Daughter: Iris Lightbown

born ___
died June 22 2010
Married James Clifford Dunn July 11 1959
Daughter: Cheryl Dunn

Born: Sep 5 1961
Works as higher education executive in Blackpool
Cheryl (Cheryl.Dunn@blackpool.ac.uk) contacted Lee via this website Feb. 21, 2014, writing, "Just randomly searching my mum's maiden name (Iris Lightbown) and up popped my grandma Bertha Riley's photo! I remember grandma's sisters and her tales of her grandma - born she said on the boat coming over from Ireland? Anyway, thought I'd say hello."

Son: Andrew Dunn

Sister: May Riley

Born May 30th 1908 in Blackburn
Died Jan 4 1989
Married Fred Hodkinson on March 9 1931

Born: Jan 29 1906 in Feniscowles
Died: June 11 1992
occupation: painter / decorator

Daughter: Jean Hodkinson

Born May 22, 1932 in Blackburn
Married Ken Brooks, Dec 11, 1954 -->

age 78 in Aug. 2007 when he wrote Lee this email from brooks1954@hotmail.com:

"Hi Lee. My name is Ken Brooks, a 78 year old from Blackburn. My wife is Jean Hodkinson Brooks, and she, and her sister Marjorie, are the two little girls in that photo with your Mom. Their mother was May Riley, your Grandma's younger sister. The photo was taken in their backyard in Warrington Street, Blackburn. I am working on the Hodkinson/Riley family tree, and I see that there are a few errors in some of your information on the website. Jean knew your Mom quite well, back in the 1940s. If you would like to email me, please feel free to do so, perhaps we can help each other on the family trees. Ken Brooks"

Daughter: Kathryn Behnken, nee Brooks

born 1962 in Blackburn
Kathryn wrote me an email in August 2007, saying she'd visited my Godden website and 1) Grandma Bell is her great-aunt; 2) she knew Bell and Harry, and probably used the same outhouse toilet I did when she was young. She immigrated to the US in 1966, and now lives in Wilmington, North Carolina, but she visits Blackburn often. Email: the_exfactor8@yahoo.com
2nd Husband: Ron Behnken, married Feb 7, 2004. -->

Daughter: Marjorie Hodkinson

Born: Feb 8 1935 in Blackburn

also in photo, along with sister Jean, with young Catherine.


Sister: Eleanor Riley

Born Dec 25th 1896 in Blackburn
Died 1897 as infant


Brother: John "Jack" William Riley -->

Born June 6th 1894 in Blackburn
Died 1920 from injuries sustained in WWI



Brother: Derick Billington

Born: May 5, 1929 in ___________
Died Nov __ 1994 in Blackburn


Wife: Marjorie Billington (nee Beaumont)

Born: July 5, 1931
Lives in Blackburn, England
Note: Terry, Steven, Simone and I visited Marjorie in October 2011. We all attended a Blackburn Rovers football match at Ewood Park. (They lost to Manchester City.) Nice restaurant dinner afterward. Lovely visit with a lovely lady!

Father: Henry 'Harry' Beaumont

Mother:

Lillie Beaumont (born Clegg)

Son: John Billington

Born: Aug 23, 1955 in Blackburn
[note: confusion below...clarification appreciated)
1st Marriage to Sharon Jones (born Green)
2nd Marriage to Allison (nee Gregory)?
Daughter: Karen Billington

Born Sep 25, 1983
[Note: Karen has been a great friend in helping preserve Billington family history.]
Lives in London
Partner:

Timothy Barton-Knott

Son: Finley

James Barton-Knott

born Jan 29 2011 in London

Daughter: Devon Billington _____


Son: Mark Billington

Born: Nov 26, 1958 in Blackburn
Married to Linda
Daughter: Faye Billington



1st marriage in Blackburn on September 21st 1943 to T.W. Godden
2nd marriage in 1967 to Philip Herbert Steinbach, in England


Born: Sep 19, 1939 in Minneapolis, Minnesota

Joined US Navy April 29, 1958
Divorced Catherine 1970?
Retired from US Navy Feb 11, 1977
Married Delores J. _______

Born 1947
Died June 13 2009

Died Dec 18 2007 (age 68)
Buried (alongside wife Dolores) at Virginia Veterans Cemetery (Amelia, VA)


3rd / current marriage in Charleston, South Carolina, USA on April 28, 1973 to Albert (nmn) Yatrofsky


Born: January 15, 1936 in New York City
Raised in Ontario, California on father's egg farm

Father: Irvin Julius (or reverse) Yatrofsky


Born 1909, in New York, New York

1st marriage to Nettie (below)

2nd marriage to Linda Greenberg


Mother: Nettie (nee Fleescla (sp?...Polish name)


Born 1909 in New York, New York

Sister (from Nettie): Phyllis

Sister (from Nettie): Cheri

Half-Sister (from Linda): Michelle

Michelle has visited Simone and I here in Yorba Linda (2009?)

Son: Charles?




Half-Sister (from Linda): Charlotte

Cousin: Mary

Son: Jay / John Frum

Lee corresponded with Jay
died while living in San Francisco

Mary lived in Baltimore with Uncle Sony (below)
Lee (age 18) lived with Mary for several months after he and his mother Catherine returned to the US after Albert retired from the Navy. Catherine and Albert moved to California. After working odd jobs during the the summer of 1976, Lee (with few alternatives) visited the Baltimore recruitment center and enlisted in the Navy.
Son-in-Law: Stanley

owner of a Baltimore HVAC company. Hired me as part-time assistant during Summer of 1976.
Son: Bobby
Son: Phillip

Cousin "Uncle" Sonny

head of local AA chapter
career spent working at Bethlehem Steel
partner: Shirley
Lee and Terry Godden and their families