Our Ongoing Family History
Family and friends: I hope you enjoy browsing this website. Yes, there's a lot of "Lee stuff" here, but it's also a place to view, share and comment on photos, information and stories about the Godden and Billington families and our ancestors.
I'm not a talented genealogist, so the way I organize and display family tree data is probably wrong. I simply indent below each individual to indicate birth/death dates, marriages, locations, parents, siblings and children. Two main sections are the Goddens from Dad's side and the Billingtons from Mum's. Underlined text indicates is a clickable link to a related page.
This website is a ongoing work-in-progress that needs your help. If you have corrections, additional facts, photos or interesting stories, please contact me. If you see information or photos that you feel are incorrect or embarrassing, simply let me know and I'll either delete the entry or make your preferred changes.
The clickable links below begin this family history, starting with how I came to America as a boy. Then we'll delve deep into Mum and Dad...as I called my parents while growing up in Merry Olde England back in the 1960s. Groovy, baby!
My Story: Divorce Brings an English Boy to America
Lee, brother Terry, and our children and grandchildren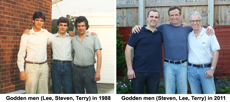 Lee's updates: 2018

Co-founder Bob Doll and I continue to grow our three year-old, four-person company Advantage Improv. Leveraging our backgrounds as business executives, organizational educators and professional improvisers, we customize and deliver team building workshops that help our clients boost creativity, effectiveness and profits by leveraging proven improvisational techniques. Our customers include Microsoft, Pharmavite, Siemens/Mentor Graphics, Nihon Kohden, CalOptima, Spectrum Brands, Brown-Forman, Ayres Hotels, Hill-Rom and the National Human Resources Association. Here are some of my past business highlights.

After two years of production, in July 2014 I celebrated the big-screen premiere and worldwide release of "Where's My Food?!", a documentary that focuses attention on the often misunderstood food service profession, as told by nine professional waiters and waitresses. Three experts also contribute their viewpoints: Cornell University professor Michael Lynn on the psychological and socioeconomic aspects of tipping; Lawyer and activist Saru Jayaraman on health and poverty issues affecting food workers and restaurant customers; and well-known Chef Michael Shafer who effectively runs Los Angeles restaurants with an iron first and a soft heart. You can watch the film on DVD, or rent ($4.99) / buy ($7.99) on Amazon, Apple iTunes and Google Play.

My days of acting on film, on television and in national TV commercials are mainly behind me now. (I prefer working in a creative role
behind
the camera.) On-camera I played a wide range of roles, from bad guy to good guy, psychologist, scientist and CIA station chief.
Watch some of my acting clips here
.

Through my RhythmicLee Music Studios company I (along with several other educators) teach students ranging in age from 7 to 70 how to play percussion instruments. Most of our students have been with us for several years.

Although I stopped drumming and singing as a full-time professional many years ago, occasionally I'll write and record songs with original music collaborations I believe in. Such is the case with the band Clever Stranger I co-founded. Along with bandmates Robert, Misty and Scott, we spent 18 months writing and recording an album that music critics described as "...a ten-track journey across a musical universe that is at once artful and accessible." You can hear and read more about my music career highlights here.

Making audiences laugh is a wonderful feeling, and I've written and performed comedy for most of my life. Beginning with improvised sketches developed for radio, I later spent a few years doing stand-up comedy. I prefer in-the-moment magic over script memorization, so I put together an improv troupe called Not Quite Right. Highlights of our televised comedy shows later found their way into the movie, "They Made That Up!" Since 2009 I've been a principal cast member of Orange County's #1-rated troupe, ImprovCity. Our weekend shows are often sold out. Read about my comedy highlights here.

The income I've made selling non-fiction and fiction hasn't made me rich, but it's nice to know some people will pay for what I write. My 2004 book ZenWise Selling: Mindful Methods to Improve Your Sales... and Your Self did well in bookstores, was translated into several languages, and remains a top seller on Amazon. I've written for the Los Angeles Times, I was a columnist with the Long Beach Business Journal, and I wrote a cover and feature articles for Referee Magazine. I've even sold some fiction

too! Read about my writing here.
I am blessed and thankful to have two wonderful daughters (Valeri and Alison) and an amazing fiancee (Simone) in my life. I believe that happiness is everyone's individual responsibility, and not something that a) is our right, b) is constant or c) our friends and loved ones are obligated to provide for us. Recreation, even simple activities like riding a bicycle, helps provide perspective and relief from daily stress. Here are some of my favorite diversions.