My Story: Divorce Brings an English Boy to America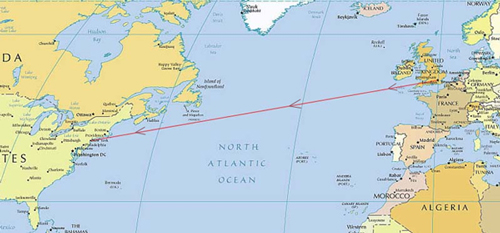 Everyone of us has a mother and father. (If you don't, you may be from Wyoming.) The point is, you don't pick your parents, and they don't pick you. We -- children and parents -- are simply bestowed...gifted, if you will, upon each other. We're cosmic strangers until the day we become family. At that point family becomes the most important thing in our lives.
I was born in England to English parents who apparently didn't like each other very much. I can't recall ever doing an activity with both parents. When I was 8 they began a nasty divorce, in which custody of me was the prize. (My brother Terry is 14 years older than me, so he was a 22 year-old adult during the divorce.)
During the year-long court battle I was shuttled between my mum Catherine's parents, the Billingtons, in Blackburn, and my dad Tim's sister Mona (a Godden) in Kent. The powder-wigged British divorce judge finally made a surprising decision that pleased no one: Custody of 9 year-old Lee was to be shared evenly between the parents. "If either of you violates this order," the judge said, "I'll award full custody to the other parent."
Mum was quite angry, and she decided outsmart the British judicial system. She introduced me to nice, bald, American man named Philip Herbert Steinbach. He was the first "Yank" I ever knew, and he proudly wore the white uniform of a U.S. Navy Yeoman First Class.
She secretly married the young American sailor she'd been dating, in order to secure an American travel visa for herself and me. (Phillip was 17 years younger than mum.) On a dark, rainy London evening in 1967, Mum grabbed my hand and we literally ran into a London Tube (subway) station, took one train, then switched to another. (She was convinced we were being followed by the police.) We jumped into a taxi (or was it a few taxis?) and ended up at Heathrow Airport, where we boarded a Pan American Airlines flight to New York. We landed the next morning. I remember our American taxi driver pointing out the Empire State Building to me as we drove to our hotel.
Mum was giddy with excitement. She told me that my "new Daddy" Philip would be returning to America to join his new wife and new stepson in a month or so. When I asked Mum about my real father, her mood turned sour. I was never to mention him again, she told me sternly. To drive the point home, Mum had her and my last names legally changed from Godden to Steinbach. I never understood why Mum hated Dad so much. Despite him never being an affable, active father, I rather liked Dad.
I did not see my father again for another 21 years, when I was 30 years old and he was 66. Within a year of that first (of several to come) meeting I legally changed my family's last name back to Godden. Oops, sorry, I'm jumping ahead.
Anyway, Mum stayed married to young Philip Steinbach for only five or so years. Recently, through government records searches, I discovered that Philip died Dec. 18 2007 and is buried at the Amelia (Virginia) Veterans Cemetery. I learned he was born Sep. 19 1939, joined the Navy at age 18 in 1958, and met my 44 year old Mum when he was just 27, in 1966. After their 1972 divorce he retired from the Navy in 1977 (just when I was completing Navy bootcamp). Philip was a fine step-dad to me. I wish I could have thanked him, adult to adult. I hope he found happiness after Catherine. I think he did, because records show that he re-married to a woman named Delores, and they had a daughter named Rita Lynn Steinbach. His wife Delores died a few years after Phillip.
After divorcing Phillip, Mum dated three men...at the same time. (She was ascertaining their fitness to be her third husband.) "The winner" was another US Navy man named Albert Yatrofsky, who, like Phillip before him, was childless and previously unmarried. Albert was 14 years younger than Catherine. In contrast to my good relationship with Phillip, I did not get along well with my new step-dad Albert. I refused to change my last name to his. I was simply an unhappy, rebellious teenager. He was simply a career Navy man who sometimes dealt with conflict by using his fists. We moved to a Navy base in Spain for two years, where it seems I did everything possible to anger my parents. After I graduated from high school in Spain we returned to the US, but Mum and Albert had had enough of me, and they drove 3000 miles away to San Diego, California, leaving me with one of Albert's aunts in Baltimore. A few months later, penniless, I joined the U.S. Navy. In the military I quickly learned about responsibility and leadership. My hard work led to rapid promotions and letters of commendation. I reconciled with Mum and Albert, and we remained somewhat close over the decades that followed.
At age 25 I married and started a family. At age 30 in 1988, twenty-one years after I was taken from England, I received an address for a "Thomas William Godden" from my young nephew Steven Godden. Could it be my real dad? I nervously wrote a brief "Are you my father, and, if so, do you want to see me?" letter to that address. Two weeks later I received a thick, 14-page handwritten letter in the mail from Crewe, England. "Yes," the letter began, "I am your father, and I do want to see you."
A month later I was in England, having tea with Dad (and his second wife Florence), and learning details of what had happened before, during and after 1967. I showed Dad photos of his previously unknown granddaughters...my girls Valeri and Alison.
Dad died just six and half years after we were reunited. But during that time he made one (Christmas) trip to stay with me in Long Beach, California, and I made several trips to England, where I reconnected not only with Dad, but also with Aunt Mona, with my big brother Terry, and with Terry's children Steven and Claire.
A family once broken apart has found its way back together. The now-transcontinental Godden family is...a family! Life, as they say, is amazing.