Performing in front of the camera as an actor, comedian or musician is a lot of fun, but it's not as rewarding -- at least for me -- as working in a creative or directorial position behind the camera. I've produced and directed dozens of television episodes, plus a feature-length film. Another film, this one a documentary, is in the works.
GOOD BUSINESS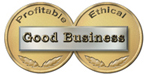 After completing training as a producer I created, directed and hosted the Charter television program "Good Business," a half-hour show on which I interviewed CEOs and leaders of ethically-profitable organizations.
I defined ethically-profitable as business leadership that -- in addition to focusing on rewarding investors with bottom-line profitability -- also paid genuine attention to the environment, community relations, employee relations, and customer relations.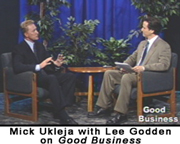 The show was honored with the Charter Communications award for the Best New Television Program of 2005. I used the show's success to continue to encourage conscientious investors and consumers to do business with conscientious companies, and I urged organizations to lead by example, to adopt compliance programs, and to commit to a culture of revenue generation that did not sacrifice trust and ethics. Companies that demonstrated high levels of social and environmental awareness were rewarded with my Good Business Seal of Approval.
Here's a 60-second clip montage from the TV program "Good Business":
WHERE'S MY FOOD?!

In 2014 completed production, hosted a big-screen premiere and launched international distribution of my feature-length documentary that exposes the struggles of food and beverage servers. Titled "Where's My Food?!" the film examines poverty, addiction and healthcare issues affecting the millions of people working as waiters and waitresses across America. You can rent or buy the film on Amazon or iTunes. The documentary's website is www.WheresMyFood.com.
THEY MADE THAT UP!
In 2009 I completed a comedic, all-improvised movie called "They Made That Up!" Reviewer Jordan Garren of Rogue Cinema described the unique movie as, "Laugh-out-loud funny...different, original and highly entertaining." The film's website is www.TheyMadeThatUp.com.